diversion post alert: even though it's still august, which means it's sticky and hot in indiana, fall - or at least september - is right around the corner. i can't wait to start wearing my fall clothes, though i can live without the cold for a while! the stores of course have all started putting out their fall clothes, which makes me pine for my cozy sweaters and tights even more. the great thing about some fall trends is that they're mostly classic. forget the leggings and gauchos of the past - if you invest in these pieces, they'll work for seasons to come, instead of being one-note clothes. some of my must-haves for fall:
long sweaters

one of my favorite trends, as this is one that will work long after they're popular. these are showing up in thick wool and thin merino (like the one to the left), in colors that work as well for spring as they do for fall, making this a three-season sweater. they work with dresses, skirts and pants. add a belt around the natural waist (a la Michelle Obama) for a really polished look.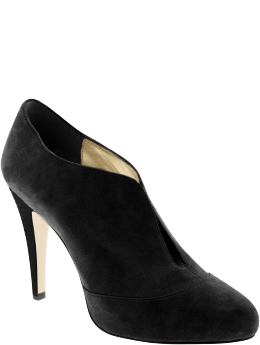 shoe booties
a slightly harder trend to pull off, even though it shouldn't be. these have been around for a while, but they're popping up more as the season changes. a true fall-winter accessory, dressy booties work with dresses, pants and skirts and come in lots of materials, from suede to leather to fabric. for a different look, they're also popular in a
sandal/gladiator form
. i love these.
shrunken jacket
one of the most adorable pieces. so versatile, so easy to throw on and go. the classic styling means this jacket will work as well this year as it will in ten years. as cute with jeans as it is with dress slacks and heels. i can't wait to grab a cute scarf to go with the jacket on my way to work. another plus: gray is a great alternative to black and looks amazing with almost every color. perhaps the best part about this jacket is that it's effortless: you don't even have to think about getting dressed in the morning. just grab this and go.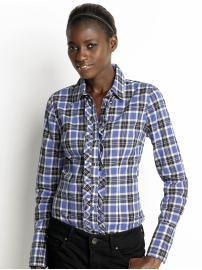 plaid shirt
this one's in pretty much every year. there's just something about plaid, something slightly childlike, or maybe i'm reverting to my catholic school girl days. plaid is dorky and preppy and casual and dressy all at the same time. the color combos are endless; my personal preference is green and blue, and i could kick myself for not nabbing a ruffled j. crew plaid blouse with those colors a few years ago. but the great thing is plaid always comes back year after year - it will always be in style. and fashion should be fun and comforting - to me, the epitome of a fitted plaid shirt.