as the run-up to the Wedding continues - and my dvr begins to hate me after recording 10 programs on the royal family - i thought i'd talk about my favorite royal wedding dress.
princess grace's long-sleeved lace masterpiece and even the over-the-top confection that is princess diana's dress were close second and third-favorites. but my personal favorite has to be sweden's crown princess victoria's.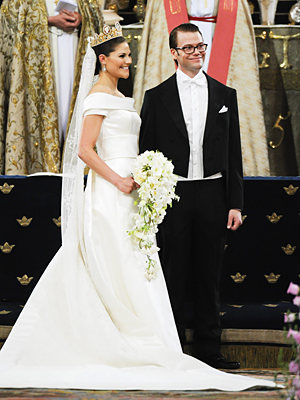 this is how you do simple but not boring. the dress was made for her june 2010 wedding by swedish designer p
ä
r engsheden and featured a 16.5-foot long train.
but it's the back of the dress i truly love. victoria was going to have her back to her guests for most of the ceremony - why not make it special?
i wasn't crazy about the cameo tiara, but have since grown to love it - especially after reading that it once belonged to empress josephine (napoleon's wife) and was used by victoria's mother on her wedding day. i love the band at the waist that defines her shape, and the lace veil in contrast with the texture of her simple gown. it's her natural beauty and happiness that's on show here - not the dress. she struck the perfect balance of staying true to herself and being a little opulent - she is the future queen of sweden, after all!