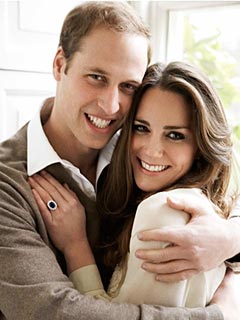 kate middleton might be the most envied girl around right now - and i'm not just talking about the prince whose shoulder she's leaning on. she's beautiful, she's about to become even wealthier than she already is, she has an incredible sense of style and she seems like a lovely, genuine person.
the wedding
details are trickling out slowly, but what we know so far is obvious: this couple is modern and wants to keep the circus that will be their wedding as minimally-crazy as possible.
one of the biggest strays from tradition (and yes, it seems silly) is that kate will be arriving by car, not by glass carriage as has been the royal tradition since 1902. it also sounds like they're not going to leave the church in an open carriage, but rather in a covered one. i have a feeling this will change due to public pressure.
my prediction for kate's gown: illusion short-sleeves (see ivanka trump's for an idea), much more fitted than we've seen on royal princesses, and classic classic classic. i'm also guessing she may do some sort of illusion low-cut, as she seems to favor this style. i think lace will be used, but it won't be a fussy gown - elegance without trying too hard seems to be her motto.