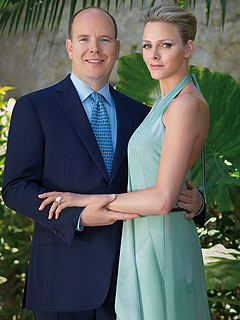 with all the fuss about kate and will's upcoming wedding, we royal fans can easily forget that there's another important nuptial coming up this year - the wedding of prince albert of monaco to charlene wittstock.
i doubt there would be much of a fuss made, except prince albert's mother is of course the late princess grace, aka grace kelly, a fashion icon and legendary actress. while albert didn't inherit his mother's good looks (i'm sorry, it's true!), he will inherit monaco, a principality that is home to the richest of the rich in europe. basically it's a spec on the map with millions of millionaires.
anyway, charlene, who is south african, will become the princess of monaco and will bring back some of her late-mother-in-law's glamor, if their engagement photo is any indication. things haven't always been easy for albert - his sisters are a bit wild, and there's the whole two illegitimate children he fathered with two different women, but charlene seems to be very down-to-earth and poised. did i mention she's 20 years his junior?
their wedding will be on july 1, and i can't wait to see how shocking her dress is compared to kate's. remember - kate wore a long-sleeved dress to her engagement photocall (with a low cut, but still). charlene goes for a backless halter. here's hoping for the first royal sleeveless dress!
update
: it's
armani for charlene's dress
!